Excellerate has the ability to send text messages to your members and pre-members.  You can send texts to an individual member, or to an entire view of members.
To send texts, you first purchase a block of text credits from our website.  If you buy 100 credits, then you can send 100 text messages.  Credits never expire, so you can keep them as long as you want.
You will first need to set up your texting account
To set up texting in Excellerate, Go to the Options menu, Preferences, Texting Options.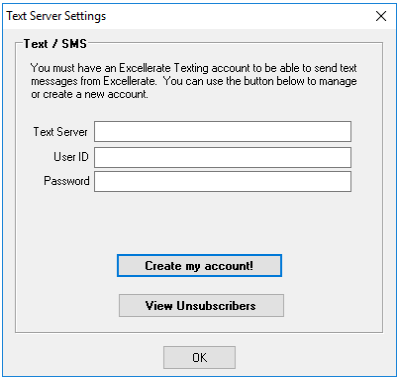 From here you can hit "Create my account".  This will take you to the order page on our web site, where you can log in, and purchase some text credits.
Scroll down to the middle and find "Excellerate text credits" and order some credits, and check out. This will create your texting account, and you will get the following email:
Your new Excellerate texting account is ready to go!
 
Next, enter the following account settings in Excellerate.
Go to the Options menu, Preferences, and click "Texting Options."
Enter the following:
 
Text Server: http://text.excellerate.com
Username: xxxxxx
Password: xxxxxx
 
You can use the "Manage My Account" button to do the following:
Add more text credits
View your text messages
Cancel a bulk send
Change your password
Simply enter that information in the screen above, and you're ready to start texting