More and more churches are realizing the power small groups can have for reaching the lost and disciple believers. However, it can be very difficult to track all the details associated with small groups.
Excellerate church management software fixes that problem
From our inception, we've been committed to providing top of the line tools for tracking, monitoring, and evaluating your small group success. Excellerate can handle:
Geographic organization structures
Purpose driven groups
G12
Traditional Sunday school classes
Free market groups
And any other small group structure you can think up…
Excellerate Church Management Software Lets You:
Centralize all your small group data.
Quickly and easily see where your members are in their spiritual growth.
Graph results from your groups, so you know how each one is doing and where you need to spend more attention.
Excellerate your small group reporting, by letting your leaders submit reports via the internet.
Generate a graph of your small group structure at the click of a button.
View graphs showing the growth patterns of your groups over time, so you can identify trends.
Excellerate church management software can automatically create a webpage for you where people interested in joining a small group can go and search your groups.
Excellerate lets you take the initiative and identify any attendance problems before they get too severe and too hard to fix.
You get all this without monthly fees!
Excellerate church management software lets you track every detail
Everything you might want to know about your groups is presented together, in the same screen, so it's easy to find.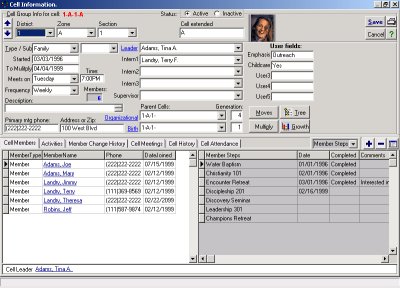 [Get all your small group information in one screen]
Record the leader's contact information, and picture
See the membership list
See what activities the group has had
Track history of any changes the group has undergone
Read details of their meetings
Look at group attendance records
And much, much more…
Make it easier to collect leader reports
Excellerate church management software includes a utility that will build some pages onto your website, where your leaders can log in and submit their reports from home. This is much easier than paper reporting.
No more wasted hours entering data off the forms.
No more running copies the day before a meeting.
No more illegible handwriting.
Just click a button and Excellerate will download the updates and process them.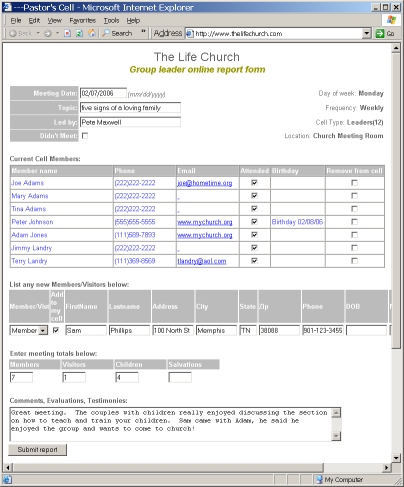 [Report small group meeting results online]
You can customize these webpages so they capture the information about your small group meetings that are most important to your church.
These pages will also let your leaders update their contact information, review reports online, and get a list of all the visitors they're supposed to be following up with.
Anyone interested in finding a small group can go to your website and do a search. You don't even have to maintain the list. Excellerate will build and update the page for you, based on the groups you have set up in the database. All you have to do is click a button and it's done!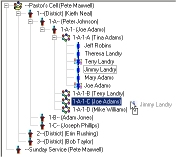 [Drag and drop groups]
Excellerate church management software lets you build your small group structure by just dragging and dropping groups around. You can build any type of small group structure! Whether you have a traditional geographic organization, or a G12 system, or no structure at all, you can build it in Excellerate.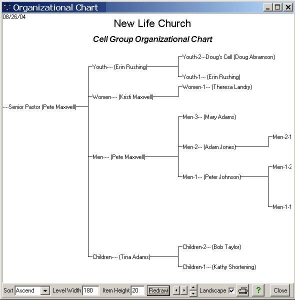 [Sample org chart for a G12 model]
Excellerate church management software automatically produces charts showing all your small groups, and where they fall in your organizational structure.
Insure successful small groups with Excellerate church management software
The key to making your small groups successful is the ability to monitor and measure all the clues that reveal whether a group is healthy or not: attendance, study topics, how many visitors come, and any comments your leaders wish to make.
Excellerate Church Management makes it easy to track and analyze these clues. Then, the program can graph things like your group's growth over time, so you can look for patterns and areas where you either need to pay more attention, or where you're having success that should be replicated in other groups.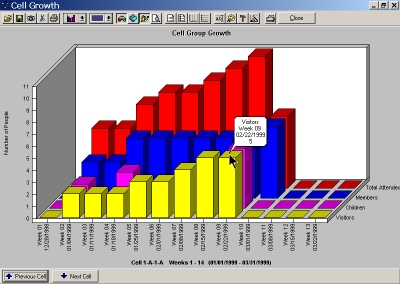 [Sample Small Group Growth Chart]