Imagine, everything you need to know about the people you minister to, in one common location. Have you been frustrated because your contact information is in one location, class attendance lost in a filing cabinet, and small group information in a spreadsheet on someone's laptop? Excellerate is the one place to track all of this information and more. Follow-up, attendance, interests, giftings, counselings, contributions, etc… all in one screen!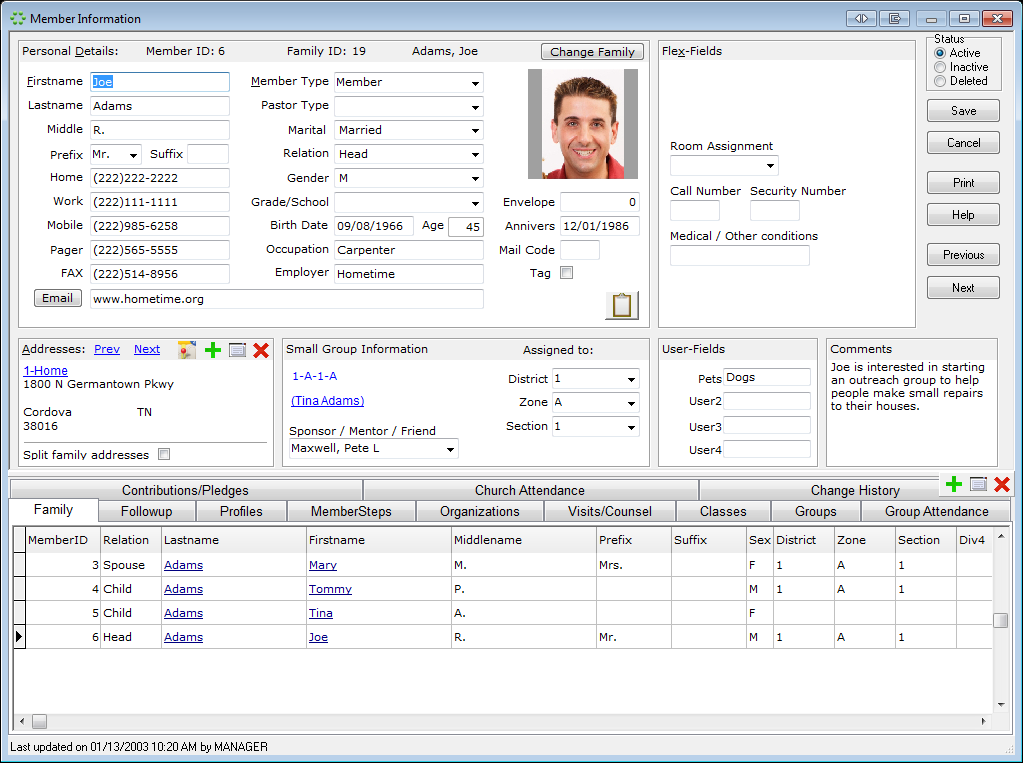 You will notice that all of the most commonly used information is located at the top of the screen, and everything else about the person is easily accessible from the many information tabs at the bottom of the screen.
Here's a few of the member tracking tabs:
Member Steps
Member Steps allow you to track a person's member/leader development process by recording their milestones. With this information, you can be proactive about developing your members by quickly seeing who has completed step A, but not step B. You can then send out letters or emails inviting them to the next class, event, etc…
Profile Codes
Profile codes allow you to apply any code you want to a person's record.  This is perfect for tracking interests, hobbies, giftings such as DISC, etc…  Then, anytime you need a list of people with a certain gift, or talent you can quickly pull  up a list.
Address Mapping
Excellerate interfaces with many of the online mapping services. Just press the map button on a members address to quickly see where they live, or to get directions to their house.
Even more member tracking features included:
Email directly from Excellerate
Copy & Paste contact info into other programs
Record tagging